UPTEC startup transports emergency kits by drone over the sea in "the world's largest robotics exercise"
UPTEC startup transports emergency kits by drone over the sea in "the world's largest robotics exercise"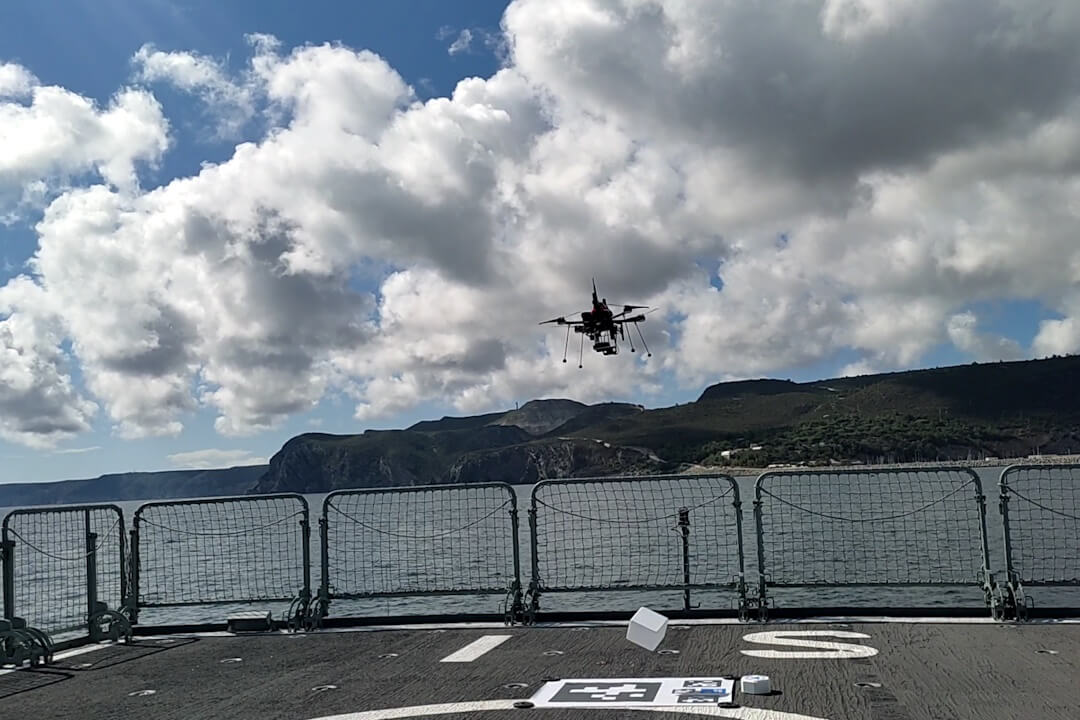 Connect Robotics is part of the list of participants in REPMUS, organised by the Portuguese Navy and NATO, which was held on September 4th, off Troia and Sesimbra
Connect Robotics, a startup incubated at UPTEC – Science and Technology Park of the University of Porto, has just participated in the 2023 edition of what is considered the "largest exercise in robotics and emerging technologies in the world", REPMUS – Robotic Experimentation and Prototyping Augmented by unmanned maritime systems.
The exercises carried out by Connect Robotics consisted of the quick and efficient transport of emergency kits using a drone, with the first operation being carried out on September 11th, departing from the base – on dry land – to a Portuguese Navy ship, and dropping the box with medical emergency kits with the help of a precise QR Code landing system, and returning to base, in a successfully completed exercise.
Connect Robotics will advance to the second exercise of this REPMUS, which is scheduled for September 19th, where the transport of emergency kits will be carried out, this time, from a Navy Ship to another ship, all carried out at sea, and will drop the order through the precision system, returning to the base ship, which is in motion.
The exercises served to test the effectiveness of the solution, and correct the gap in rapid and efficient response to emergencies and also for logistical purposes, requested as a proof of concept for an obvious need and future implementation and operationalisation, this being the ultimate purpose of REPMUS with all entities involved.
The startup was founded in 2015 and specialised in democratising transport, via drone, of goods and needs, emphasising the transportation of medicines and laboratory samples in the health sector, but capable of transporting any goods needed in different areas. This wide adaptability to various industries allowed the testing of this solution in the exercises that began on September 4th, at sea off Tróia and Sesimbra, which are co-organised by the Faculty of Engineering of the University of Porto (FEUP), the NATO Center for Maritime Research and Experimentation (NATO CMRE) and the NATO Maritime Unmanned Systems Initiative (NATO MUSI), with the participation of several entities from 26 countries.
In May, the startup carried out a flight of more than 10km Beyond Visual Line-Of-Sight (BVLOS), during the first edition of ARmy Technological EXperimentation (ARTEx), proving the solution's effectiveness in defence logistics operations.
In this operation, the pilot is unable to keep the remotely piloted drone within his visual range, which makes authorisation from the Military Aeronautical Authority (AAN) very rare to obtain.
The Connect Robotics solution was successful with the development and validation of the Flight Termination System (FTS), a safety system required by the European Union Aviation Safety Agency (EASA), the European institution that regulates airspace, and which is already applied in the transport of medicines at Farmácia da Lajeosa, in Viseu, on BVLOS flights, where they have already made more than 100 deliveries.